IN MEMORIAL
For three of the four years that the 105 Voices of History National HBCU Choirhas been in existence Van McCoy Music, Inc. and the Van McCoy Legacy Branch of ASALH have been enthusiastic supporters. This gave us the privilege to watch the tireless genius of Royzell Dillard at work, tempered always with love and humor. As Lead Conductor and Music Director, he made sure the conductors got the four regional college choir groups ready to become one choir. Arriving in Washington, DC only three days before the concert, the students always brought a musical miracle to the stage of John F. Kennedy Center for Performing Arts.
Professor Dillard has left a legacy in college choir excellency that must never be lost.  We at Van McCoy Music, Inc. cherish the opportunity to have known him and join the Hampton University community in mourning his death.  

Hampton University Community Mourns the Loss of Devoted Choir Director Royzell L. Dillard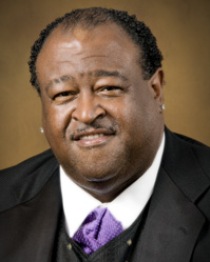 The Hampton University family mourns the death of devoted alumnus and faculty member, Mr. Royzell L. Dillard, who passed away on Thursday, Nov. 17, 2011. Joining the Hampton University faculty in 1986, Dillard served as a faithful member for twenty-five years. At the time of his passing, he was an Assistant Professor of Music, the Director of University Choirs, and the Minister of Music at Hampton University's Memorial Church.
Dillard touched many lives. Many Hamptonians served under him as members of the University Choir, University Concert Choir, the University Gospel Choir: His Chosen Sounds and The Vocal Jazz Ensemble: JZAZZ. Dillard was also the national choir director for the 105 Voices of History, an Historically Black Colleges and University national initiative managed by Partners Achieving Success, an organization created to promote diversity in America's national venues and to link students' skills across industries. He worked with and training over 450 students from HBCUs for their participation in the national choir.
Dillard earned the Bachelor of Arts degree in psychology from Hampton Institute in 1983 and the Master of Arts degree in music education from Hampton University in 1988. He was an honored member of the American Choral Director's Association, the Inter-Collegiate Music Association, Alpha Phi Alpha Fraternity, Inc., and various organizations. Since 2000, Dillard has served as the Co-Music Director of the Hampton University Ministers' Conference and Choir Directors' and Organists' Guild Workshop.
A musical genius, Dillard published articles and music as well as presented at numerous conferences and workshops both nationally and internationally. Named to the Who's Who in Colleges and Universities, Dillard has several noteworthy performing credits including Porgy and Bess, Messiah, A'int Misbehavin', and Five Guys Name Moe. One of the highlights of his career was his performances for former U.S. Presidents William J. Clinton and George W. Bush, as well as current President Barack H. Obama.
The Annual Thanksgiving Concert featuring the University Gospel Choir: His Chosen Sounds will be held in memory of Dillard on Sat, Nov. 19 at 7 p.m. in Ogden Hall.
The memorial service in the video below was held on Tuesday, Nov. 22 at noon in Ogden Hall.
Royzell L. Dillard Memorial
Loading the player ...
Printed with permission from Hampton University.